The FJ Guide to the Best Gun Safe for Home Defense
Finding the best gun safe for home defense can feel overwhelming.
From keypad entry to biometric locks, from one to five handgun safes, what works the best? This is a question heard often, especially as of late. Over the course of the past two years, it has been reported that between 7 million and 12 million first time gun owners have entered the world of firearms by buying their first gun. We believe it at Frontier Justice. While we are always proud to meet you at your level of experience, and pride ourselves on helping so many begin their firearms journey each day, we certainly saw a spike in new owners through these times. During the "unprecedented times" experienced over these years, we've been proud to have served so many new faces!
At Frontier Justice we did our part to ensure our portion of the 7-12 million new shooters were well educated as to which safe was the best gun safe for home defense and encouraged them to purchase a method to match with their firearm. It's our responsibility to help you find the tools that best suit you and your unique situation, and we're happy to say that many of our new clients purchased a safe storage option with their first firearm. However, some chose not to and it is those clients who wish to talk to today, to discuss next steps, and to further elaborate on why having a firearm safe is so essential.
Why you Need the Best Gun Safe for Home Defense
If you brought your firearm home for the first time, and concealed it in a closet, drawer, or perhaps under the bed, we want you to consider now making a plan for how it will be stored from here on out.  It is essential to make the firearm ready for easy access by the right individual during high stress situations, but equally so, it should be inaccessible to unintended users. Some things to consider:
If you have small children in your home, children (as you know) are curious by nature.  You should never keep a firearm unsecured from the grasp of little ones.  Accidents can, and do, occur and they are easily avoidable with a simple safe in your home.
Depressed teen in your home? It may be time to rethink (even if it is for a short period of your family's history) how you store your firearms and ammunition, and who knows how to access them. Firearms are not the only thing to secure, but they are in an array of tools that could be used for harm rather than good. Being conscious of this, and taking the time to secure such items is critical during the most volatile time in your child's cognitive and emotional journey.
Those of very advanced age are also a potential risk with firearms. It's easy to get complacent and discount adults as always safe, but just like a Driver's License, it's critical to know the mental state of the elderly in your home.  Sometimes as we advance in age, accidents can become more frequent, and understanding this can help you best formulate your firearm safety plan.
So which gun safe is the best gun safe for home defense for your situation? There are a variety of brands and types of safes that we offer at Frontier Justice.  We believe in these products and have tested them.  Some of our favorites include:
Types of Gun Safes Offered at Frontier Justice
Biometric Lock (Fingerprint Lock) Gun Safes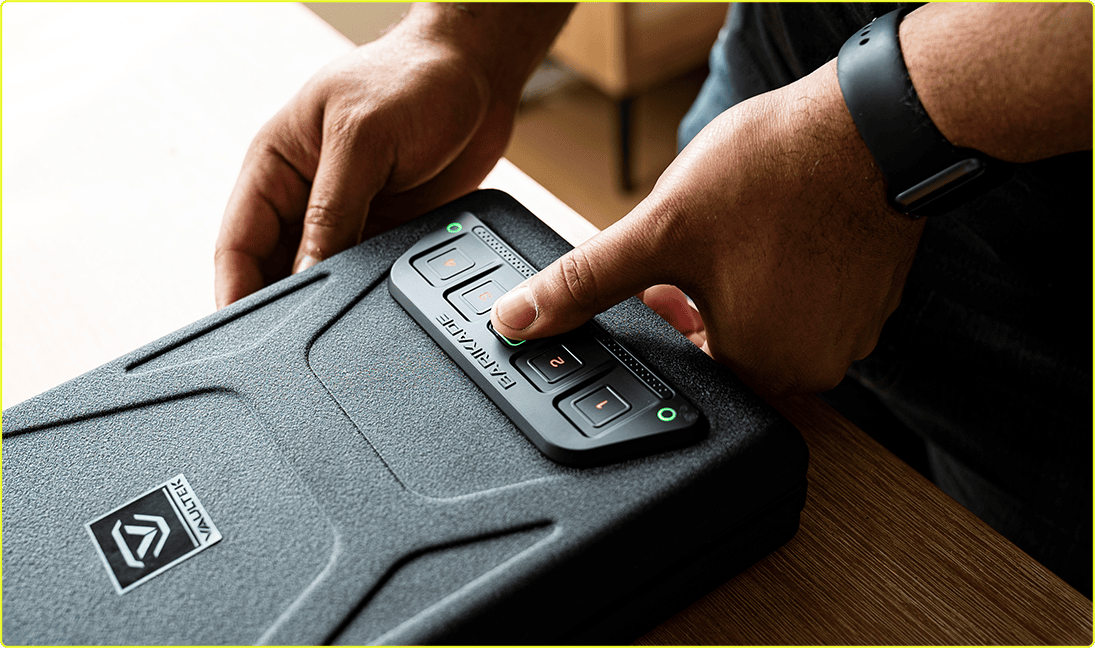 In regard to peace of mind, biometric safes are considered the most secure gun safes for home defense as they require a fingerprint to access the firearm. If this suits your firearm safe needs, we recommend our line of Vaultek products! Vaultek Quick Access Gun Safes are some of the best, quick -access, safes on the market. These biometric lock gun safes allow you to store multiple user fingerprints on a device, so that all authorized users may access them as needed. Additionally, biometric firearm safes include additional access methods, in the unlikely event of a scan error, including a keypad and manual key!
Vaultek biometric firearm safes also connect to the Vaultek app. (This is only available on the wifi-enabled models). With this app, you can receive alerts when someone is tampering with your safe, track access history, and check the battery life of your safe, among many other benefits. Like most of our in home firearm safes, these are ready to be bolted down or security cable locked down to prevent unwanted removal. Browse our biometric lock gun safes here.
Small Gun Safes
Small gun safes are the most versatile safes you'll own! These can go with you anywhere and give you peace of mind and security wherever life takes you. From securing a firearm in your vehicle while at work (if your employer doesn't allow carry) to sporting events and more, being able to secure your firearm and tie it off with a security cable to prevent it being carried away is critical.
Travel is another great example of how a small gun safe can help you be secure no matter where you go. Firearm safes and security boxes like the Hornady Rapid Access Vault and Vaultek Life-Pod 2.0 are lightweight and compact enough to travel with you comfortably! Traveling with a firearm requires many considerations, including local laws and restrictions on how you can carry. To learn more about this topic, be sure to read our blog on how to travel with a firearm.
Our small gun safes are perfect for daily life and can be a constant companion to you and your firearm, making them an absolute essential. Shop our small firearm safes here.
Safety – More than just a Firearm
Being safe with a firearm is more than just the defensive function the tool serves, it also means taking the time to ensure that those who should not be accessing a firearm are unable to do so. This also means learning to rapidly access your safe. Be sure to practice accessing your firearm with dry fire training inside the home, to verify that where your safe is staged does not impede your access to your defensive tool.
Additionally, if you're not yet ready to purchase a firearm for self defense, we do have a variety of less lethal defensive items available for you as well. The Byrna blasters are a great way to defend yourself less lethally both in the home and while on the move. Learn more about them and how you can defend yourself without a firearm in this blog.
For those interested in learning more about home defense, we recommend our Situational Decision Making course, which uses our simulator to put you through relevant training scenarios with our expert instructors! Visit our online store or come speak with the FJ Experts in person today to discuss your personal safety plan, and which safe, or safes, best suit your unique needs.
We are proud to serve our community through quality equipment and firearms education. Learn more about what makes Frontier Justice different by reaching out to us, signing up for our membership club, or scheduling a class. You can also always simply stop by to check out our store, boutique, and range for yourself!