The Different Types of Gun Safes – 2022 FJ Guide
Different Types of Gun Safes
If you're one of the 7-12 million new gun owners from the past two years, and brought your firearm home for the first time, and concealed it in a closet, drawer, or perhaps under the bed, we want you to consider now making a plan for how it will be stored from here on out.
It is essential to make the firearm ready for easy access by the right individual during high-stress situations, but equally so, it should be inaccessible to unintended users. At Frontier Justice, we're proud to be a member of the National Shooting Sports Foundation and believe in the shared mission of Project ChildSafe, which is the largest, and most comprehensive firearms safety education in the United States with a focus on keeping youth and firearms safe and secure. Below, we have compiled some of the most common different types of gun safes, to help you find the best way to keep your firearm secured when not in use.
1. Biometric Lock (Fingerprint Lock) Gun Safes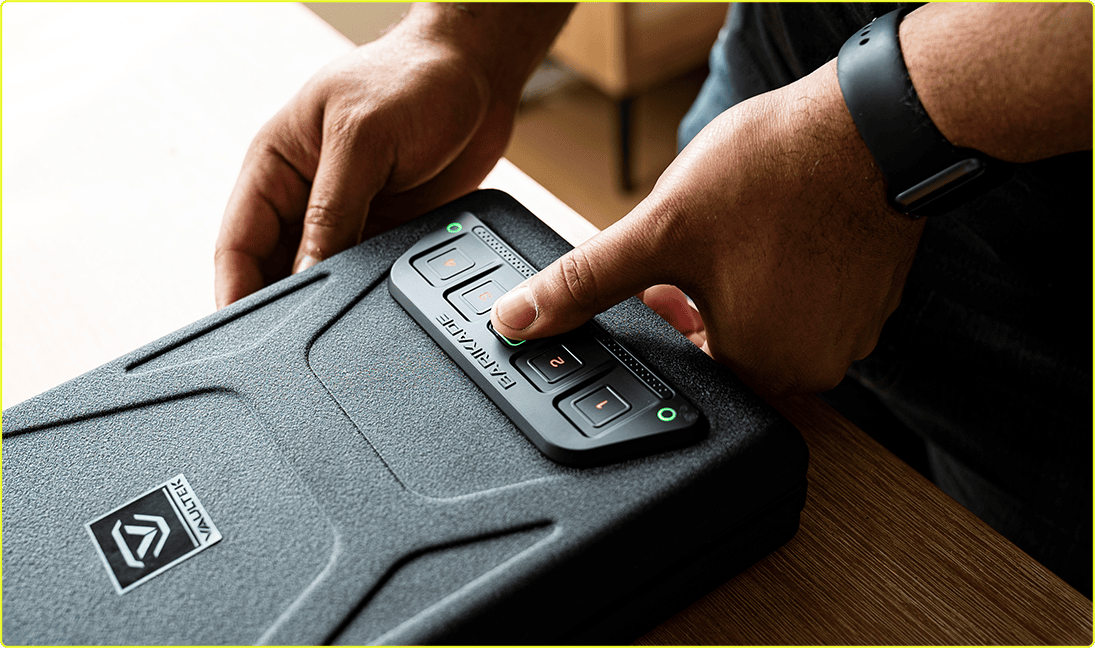 In regard to peace of mind, biometric safes are considered the most secure gun safes for home defense as they require a fingerprint to access the firearm. If this suits your firearm safe needs, we recommend our line of Vaultek products! Vaultek Quick Access Gun Safes are some of the best, quick-access, safes on the market. These biometric lock gun safes allow you to store multiple user fingerprints on a device, so that all authorized users may access them as needed. Additionally, biometric firearm safes include additional access methods, in the unlikely event of a scan error, including a keypad and manual key!
Vaultek biometric firearm safes also connect to the Vaultek app. (This is only available on the wifi-enabled models). With this app, you can receive alerts when someone is tampering with your safe, track access history, and check the battery life of your safe, among many other benefits. Like most of our in-home firearm safes, these are ready to be bolted down or security cable locked down to prevent unwanted removal. Browse our biometric lock gun safes here.
2. Under the Bed Gun Safes
These gun safes are designed like a drawer and fit discreetly underneath your bed. These are a great option for long guns, like rifles and shotguns, as well as valuables and handguns. We recommend the Snap-Safe Under the Bed Safes and carry them in medium, large, and extra-large sizes based on your security needs. These safes are made from 14-gauge steel and come equipped with a pry-resistant door, 3-8 digit lock, and 5′ anchor cable. If you're looking for a firearm safe that gives you peace of mind while also providing concealment, an under-the-bed safe is a fantastic option, especially in smaller living spaces such as an apartment, where every square foot used counts.
3. Small Gun Safes
Small gun safes are the most versatile safes you'll own! These can go with you anywhere and give you peace of mind and security wherever life takes you. From securing a firearm in your vehicle while at work (if your employer doesn't allow carry) to sporting events and more, being able to secure your firearm and tie it off with a security cable to prevent it being carried away is critical.
Travel is another great example of how a small gun safe can help you be secure no matter where you go. Firearm safes and security boxes like the Hornady Rapid Access Vault and Vaultek Life-Pod 2.0 are lightweight and compact enough to travel with you comfortably! Traveling with a firearm requires many considerations, including local laws and restrictions on how you can carry. To learn more about this topic, be sure to read our blog on how to travel with a firearm.
Our small gun safes are perfect for daily life and can be a constant companion to you and your firearm, making them an absolute essential. Shop our small firearm safes here.
Safety – More than just a Firearm
Being safe with a firearm is more than just the defensive function the tool serves, it also means taking the time to ensure that those who should not be accessing a firearm are unable to do so. This also means learning to rapidly access your safe. Be sure to practice accessing your firearm with dry fire training inside the home, to verify that where your safe is staged does not impede your access to your defensive tool.
Additionally, if you're not yet ready to purchase a firearm for self-defense, we do have a variety of less-lethal defensive items available for you as well. The Byrna blasters are a great way to defend yourself less lethally both in the home and while on the move. Learn more about them and how you can defend yourself without a firearm in this blog.
For those interested in learning more about home defense, we recommend our Situational Decision-Making course, which uses our simulator to put you through relevant training scenarios with our expert instructors! Visit our online store or come speak with the FJ Experts in person today to discuss your personal safety plan, and which safe, or safes, best suit your unique needs.
We are proud to serve our community through quality equipment and firearms education. Learn more about what makes Frontier Justice different by reaching out to us, signing up for our membership club, or scheduling a class. You can also always simply stop by to check out our store, boutique, and range for yourself!